Typically, bigger companies require using tools for following the various processes and making the right decisions.
In Precoro, you can integrate your QuickBooks Online account and enjoy its advantages which will help you automate document management and save time.
Advantages of QuickBooks Online Integration


Reduced manual input for Purchase Orders or Invoices in QuickBooks Online.
Suppliers' data sync between Precoro and QuickBooks Online.
Better communication between the purchasing and accounting departments.
Prevention of careless errors due to manual entry.
To integrate QuickBooks with Precoro, you should have a Plus, Advanced QuickBooks, or Essential subscription. A Simple Start plan does not offer such an option.
The Essential plan allows the integration of Invoices only.
How to Integrate Precoro with QuickBooks Online
1. Connect Your QuickBooks Account


Go to Configuration → Integrations to start connecting your QuickBooks Online account to Precoro, then press the Connect to QuickBooks button to sign in to your QuickBooks Online account via Precoro.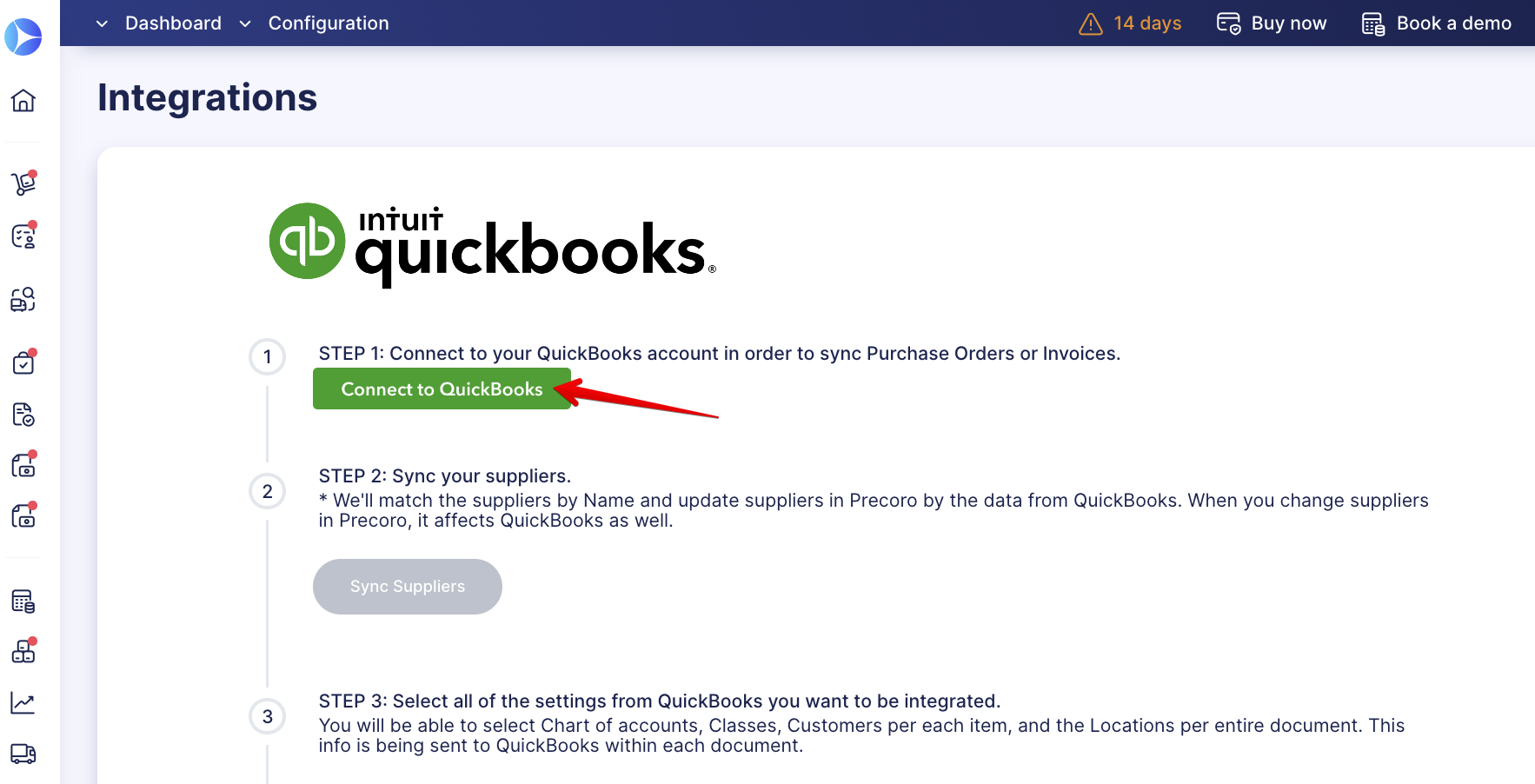 2. Sync Your Suppliers

Import Suppliers to Precoro from QuickBooks OR press Sync Suppliers if you already have a Supplier's list in Precoro.
Every Supplier in Precoro should have a pair in QuickBooks. When syncing Suppliers, Precoro will recognize the matches.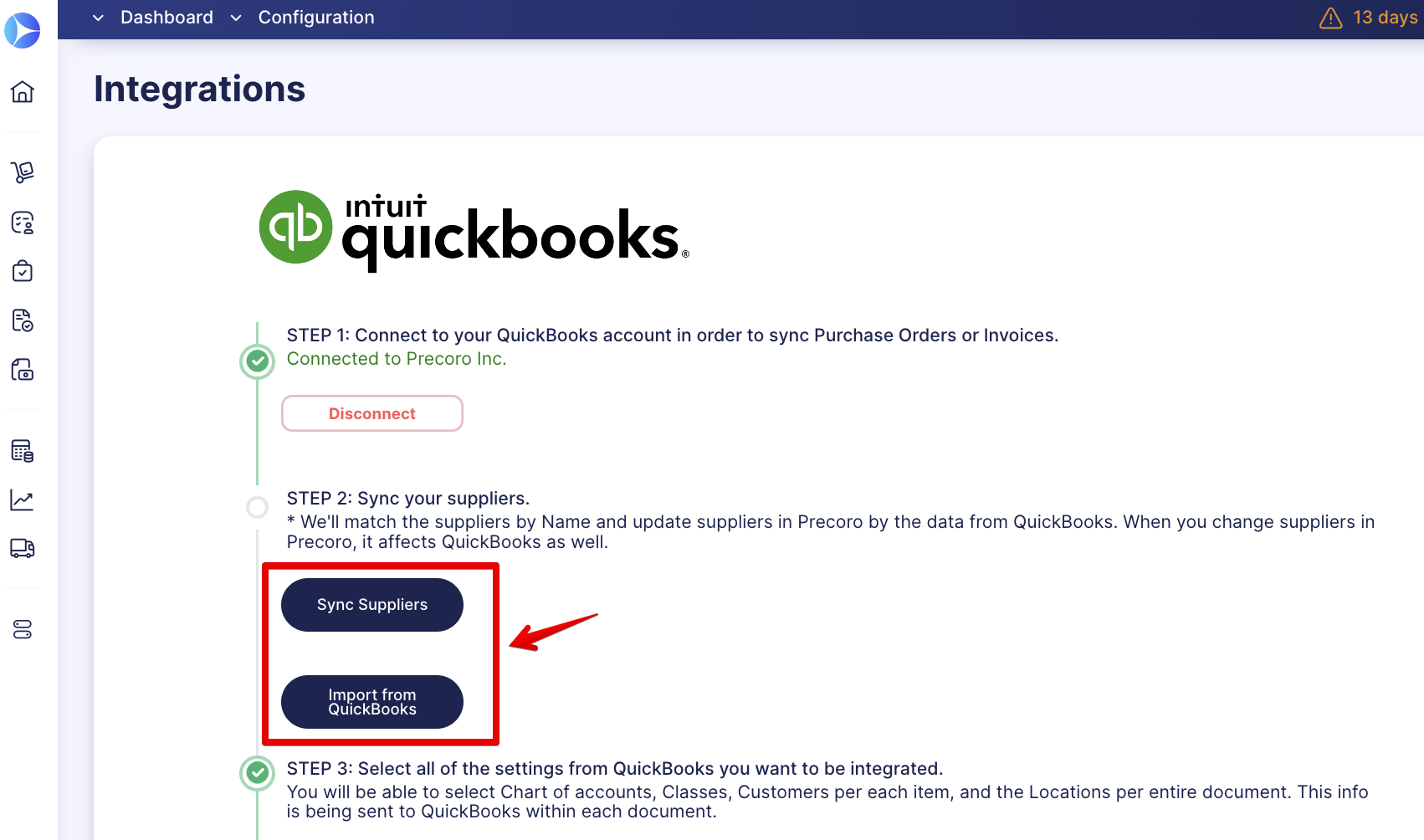 If some Suppliers are not recognized, sync them manually through the Suppliers Management page or create a new Supplier in QuickBooks.
Please note that the currencies of your Supplier in Precoro and QuickBooks should be the same.

To learn more, consult the Suppliers and Items Integration article.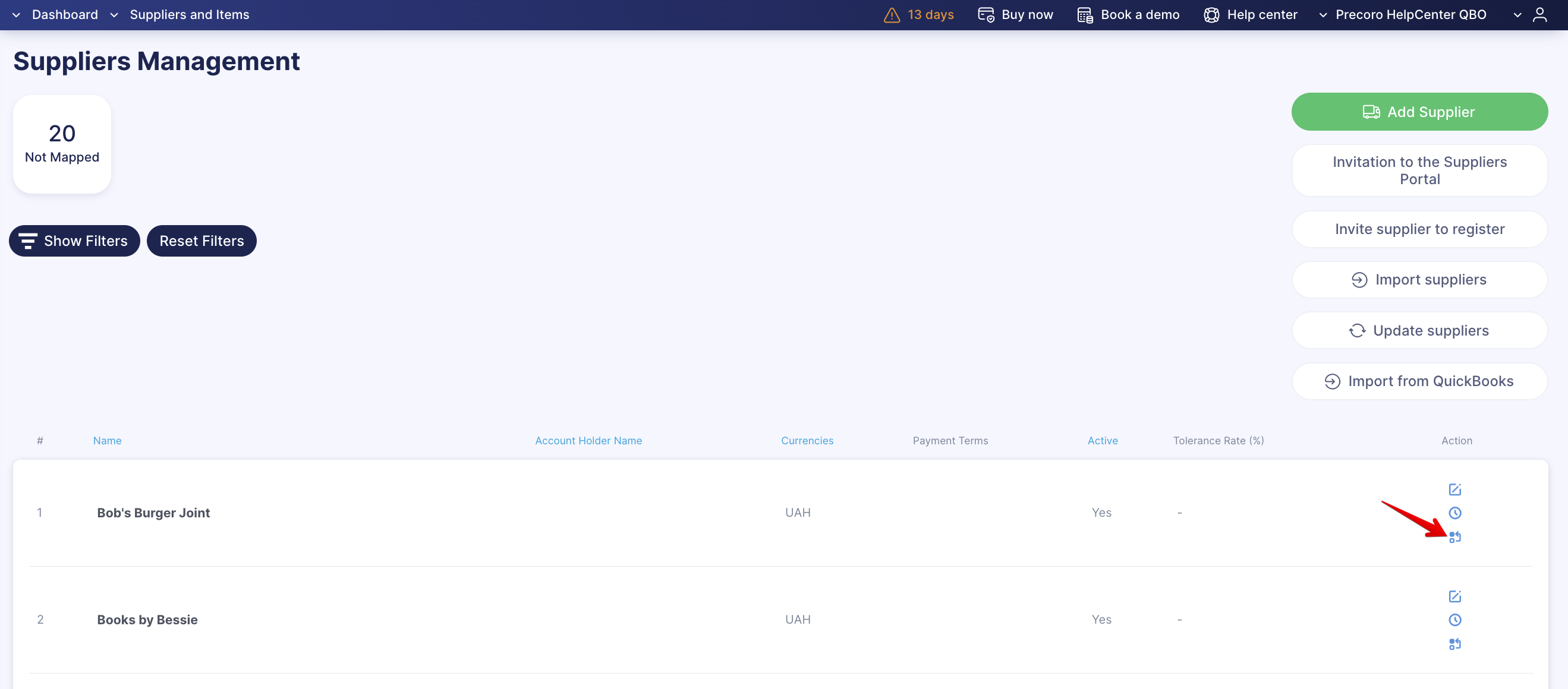 After this, the list of the following Supplier's fields will be automatically updated back and forth:
Supplier Name
Legal Address
City
State/Province
Postal Code
Country
Phone Number
Email Address
Account Number.
3. Choose the QuickBooks Settings to Integrate with Precoro

You can select the following lists to mirror in Precoro:
GL Accounts (Chart of Accounts)
Customers and Projects
Classes / Departments
Locations.
To integrate the needed list:
1. Choose the list in Step 3.
2. Select the options you want to import from QuickBooks by checking them.
3. Press the Import button below.
Once imported, you will use the mirrored options in the Purchase Orders/Invoices in Precoro in the same way as it is configured in your QuickBooks account.

Important information to consider:
Buttons starting with "Import…" in Step 3 contain only previously unintegrated data from QuickBooks. Hence, if you added, for example, a new Account in QuickBooks, you should click on the Import Chart of Accounts to display it in Precoro. You can delete the Accounts manually on the Edit Custom Field page.

The Update button in Step 3 will only renew the already integrated data. Therefore, if you want to update integrated options, use this button to keep integrated data up-to-date without adding new options. For instance, if you made changes in the customer's data in QuickBooks, click on Update to display these changes in Precoro.
4. Sync Items (Optional)

If you have products and services, or you are managing inventory in QuickBooks, you can synс it with Precoro.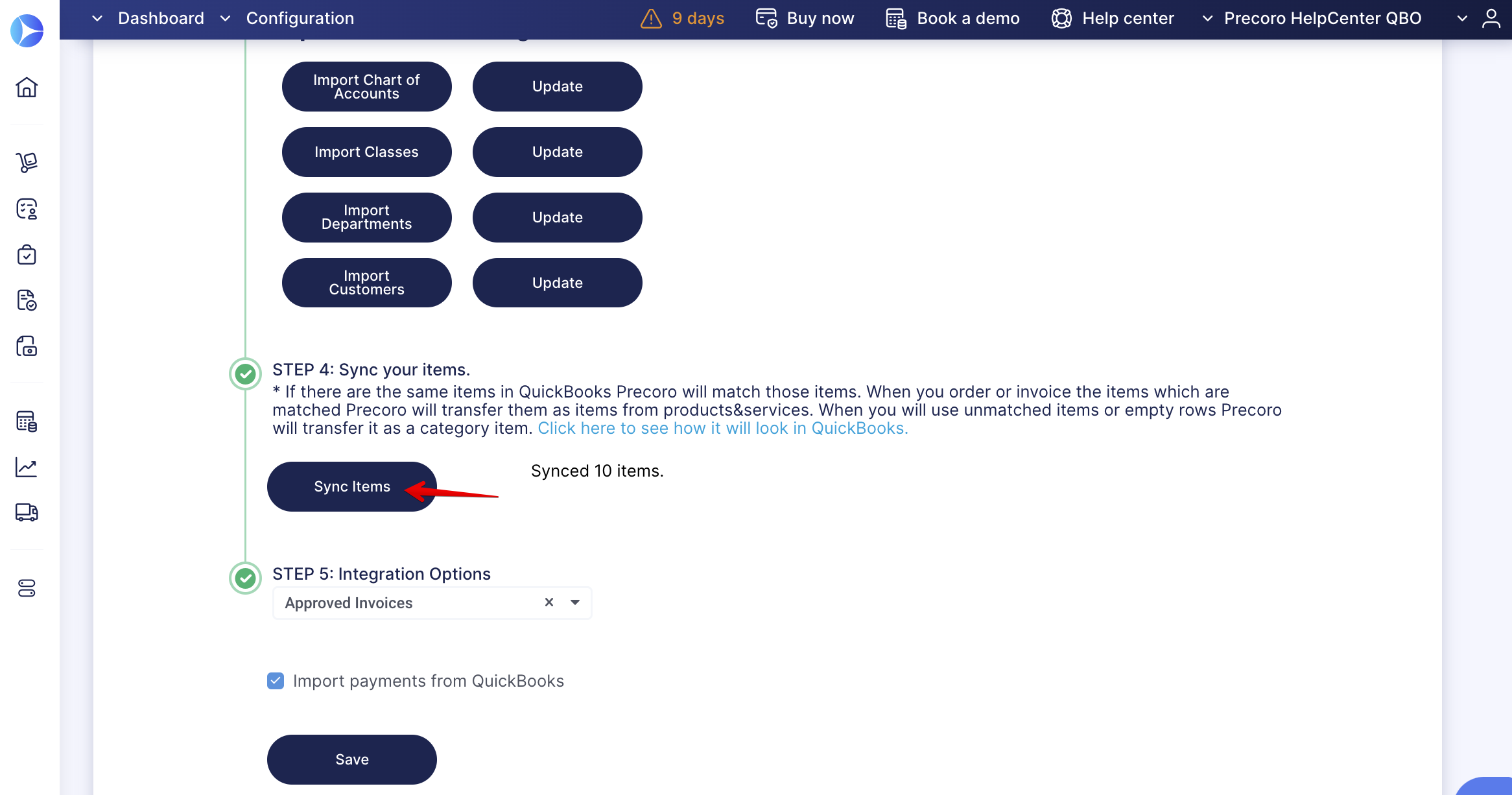 Synced products will be sent to QuickBooks as items. Other items will be sent as category details.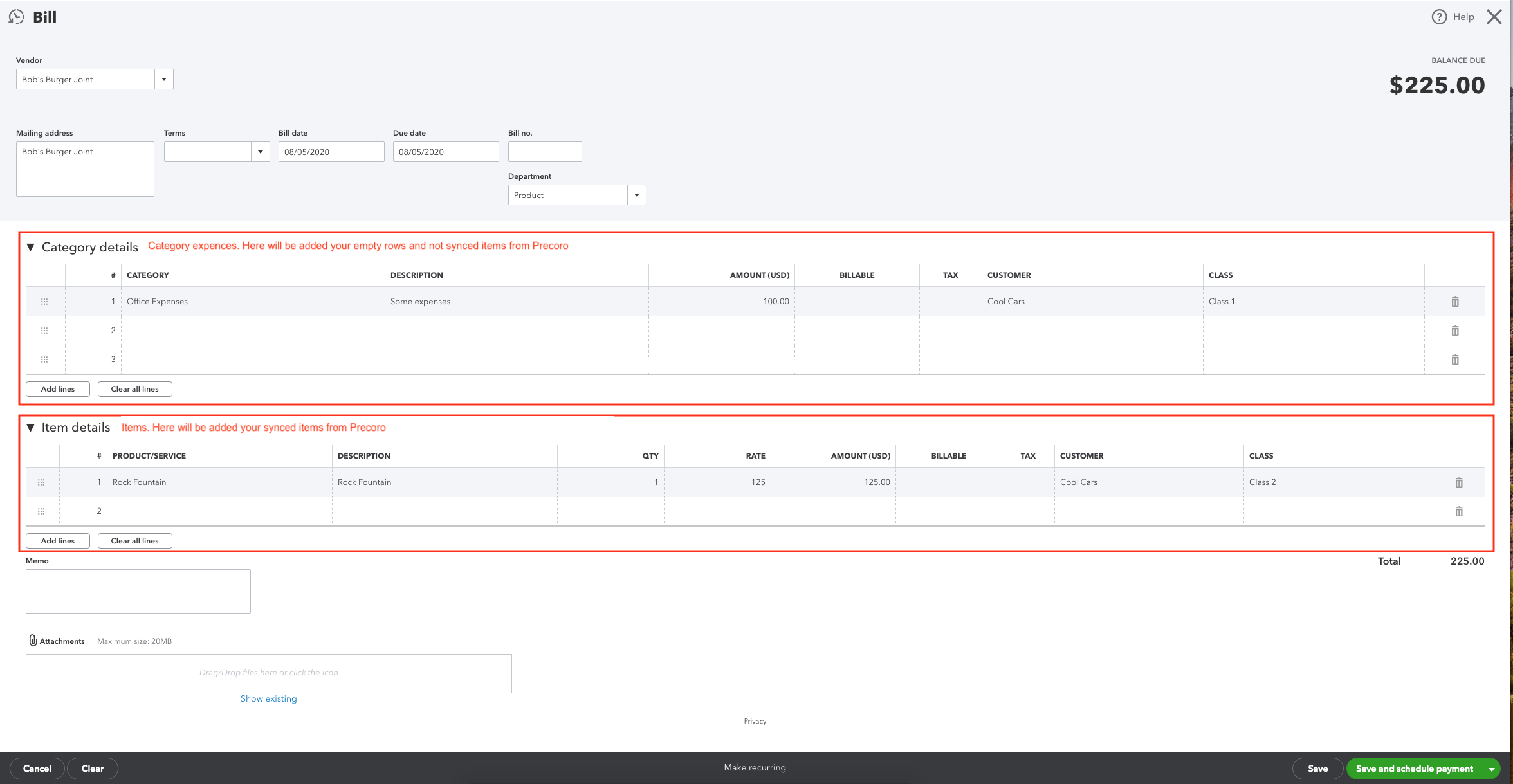 All changes in QuickBooks regarding products and services and inventory should be synced with Precoro through the Sync Items button on the integration page.
To get more information, go to the Suppliers and Items Integration page.
5. Select the Integration Option

You can choose Approved Purchase Orders or Approved Invoices. If you select Approved Invoices, you can also Import Payments.
When the Import payments option is active, payments and their statuses will also be synced.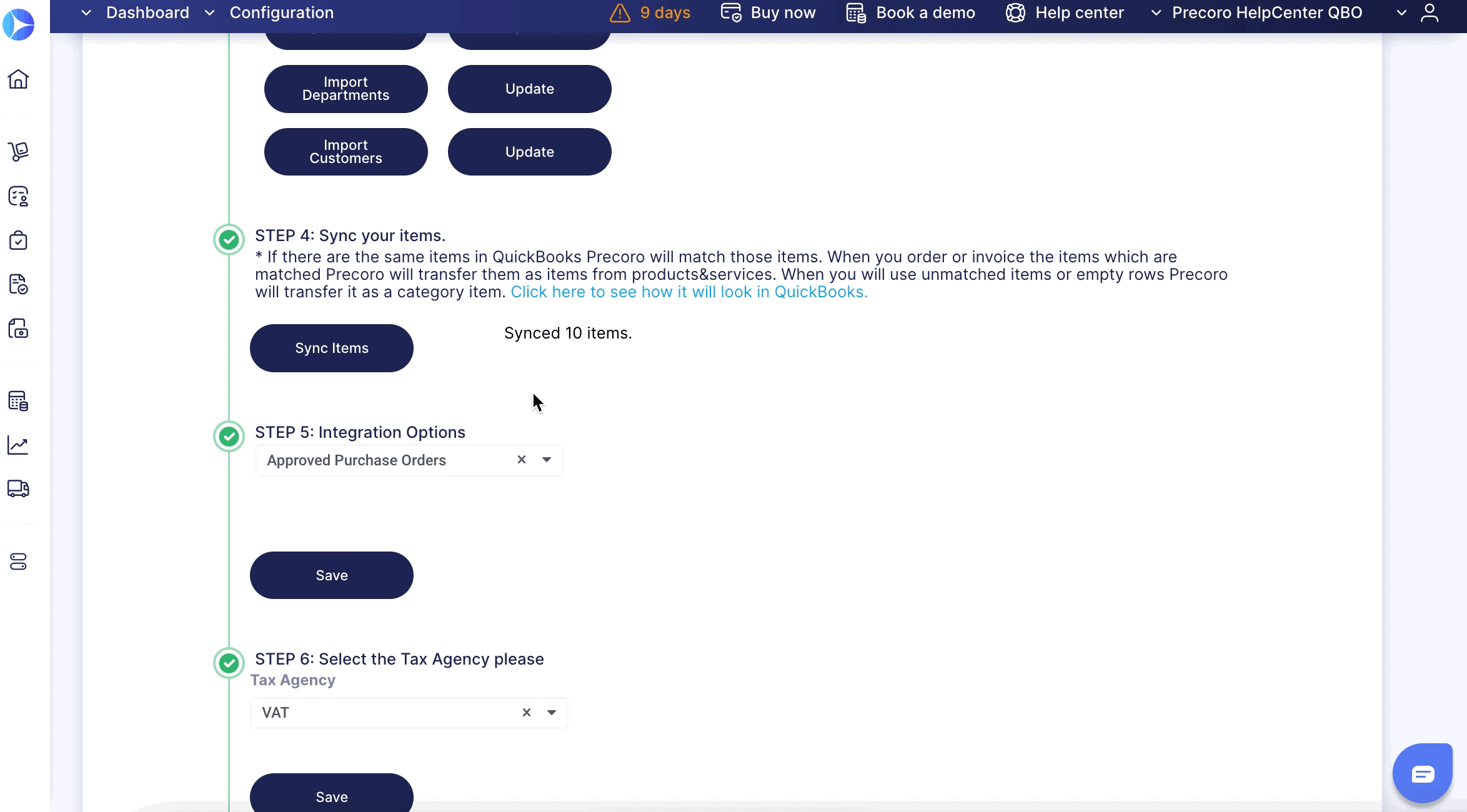 6. Tax Agency and Rates Matching (Optional)*


*This step will be hidden if you are not using Taxes in Precoro.
Find more on how to work with Taxes in Precoro here.
To integrate Tax and map Rates, you should follow these steps:
1. Set the default Tax Agency in Step 6 of the integration settings.
2. Map the Tax rates in Step 7.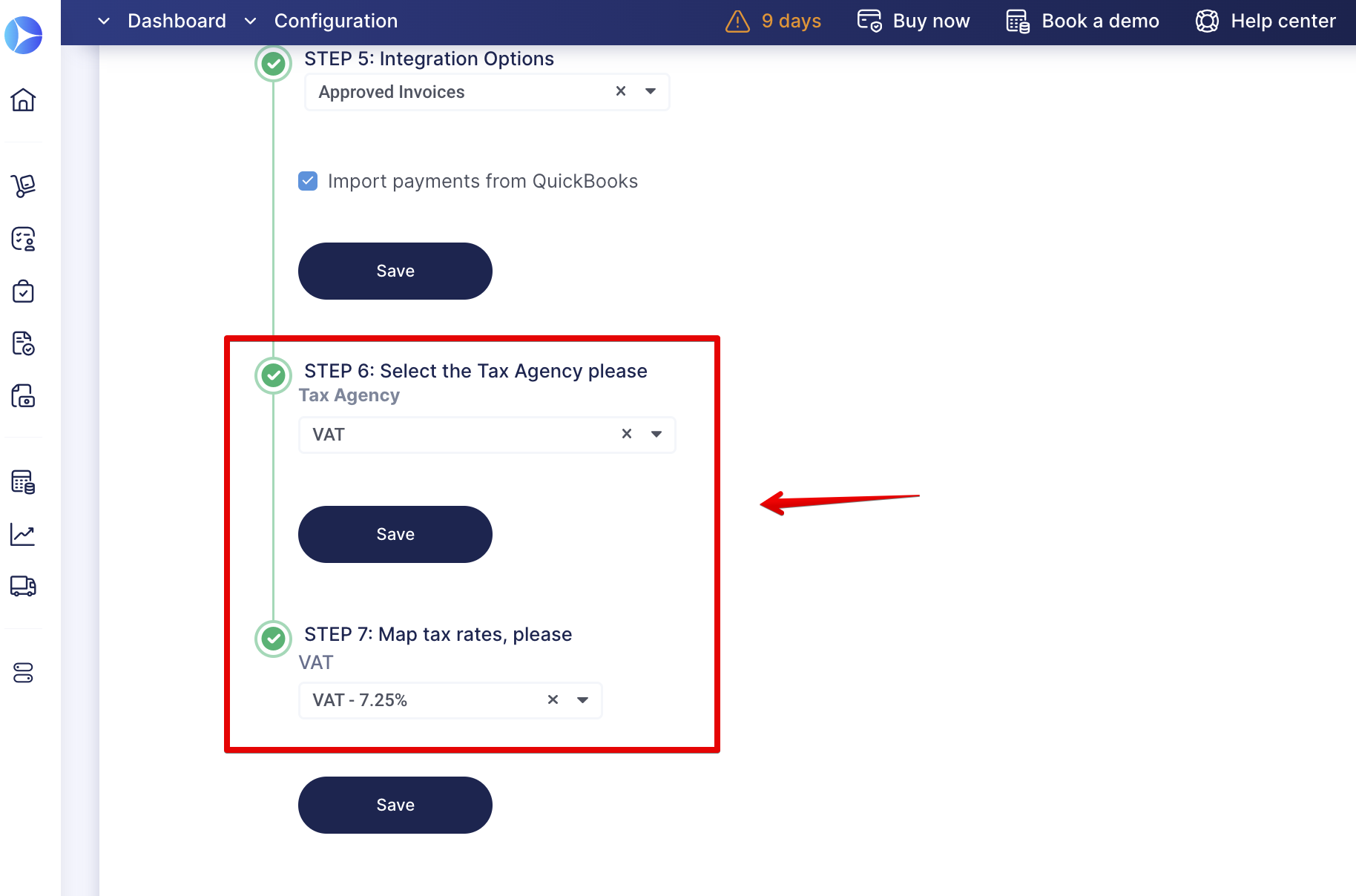 Please note that the selected Tax rate should match the one in Precoro.

Once you have finished the setup process and Saved the progress, your next approved Purchase Order/Invoice is transferred to QuickBooks automatically.
To get more information on the interaction between Precoro and QuickBooks in document management, read these articles: