Updates:
Supplier Registration


Supplier Registration is the process of collecting crucial information from outside suppliers of items and services and entering that information into a system to manage the relationship.

In Precoro, we have built a clear and efficient Supplier Registration on-boarding process that will benefit you in terms of data accuracy as well as minimum manual and routine work thanks to the automation.
You can find the general overview of this function in this article.

This article will help you to learn more about setting up and utilizing Supplier Registration.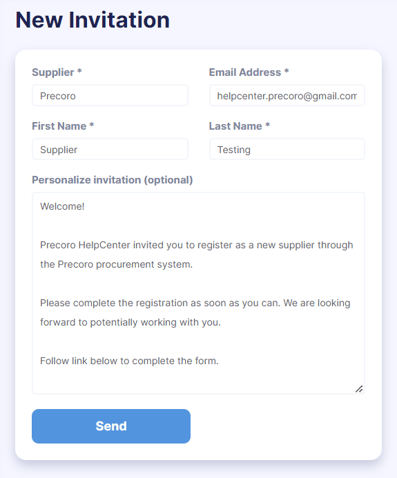 Access to custom reports will be transferred to the substitute when the user is deactivated
How it works:
When a user is deactivated, all the reports created by him will be assigned to the chosen substitute.
The substitute will have full access to these reports - the ability to edit and delete reports.
On the custom report card on the reports page, the creator's name will be changed to the substitute's name.
When the user is turned back on, the substitute's access will be taken away.
An SKU column was added to the Items Bundle module

Now, you can easily check the items' SKUs on the Items Bundle page. Some of the item descriptions and names can be very similar to each other, but the SKU is a unique item identifier. It should help users to orient in the created bundles easily.
How it looks in Precoro: