Updates:
Vacation Mode
Precoro launched a basic functionality for Vacation Mode.
The improvements to this feature will be available in the next releases.
How it works:
Go to Profile Settings —> the Vacation Mode tab;
Here you can turn on the switch and set dates when you are away;
You can also see a preview of your status;
Click the Update button to save changes;
When the user is set 'as away,' he will not get any emails about new documents.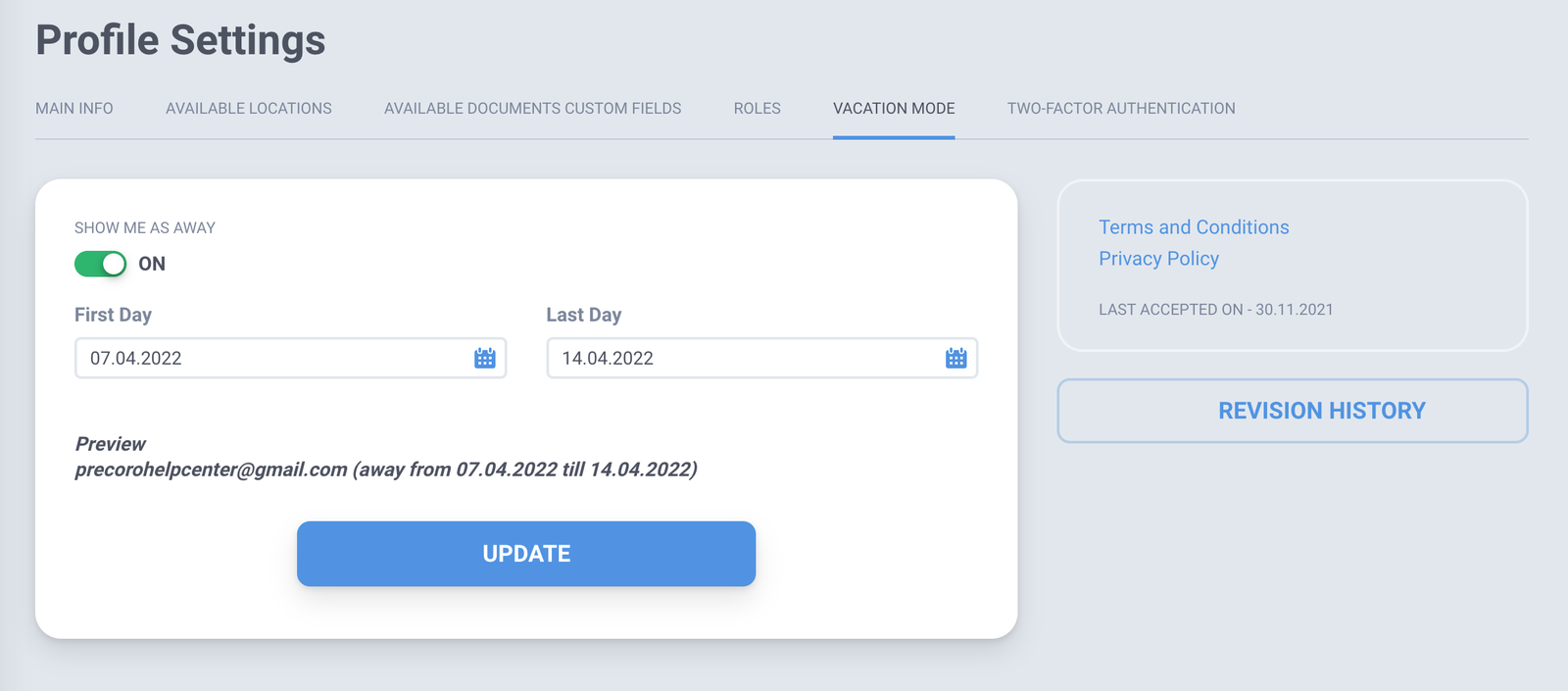 Where the 'away' status is displayed:
In filters;
On the documents list;
On the document show page;
On the document's edit page;
In comments;
In the Approval Workflow;
On the budgets list page — for a budget holder;
In the users list;

Invoices: changes in the re-approval after the documents' revision
We changed the process of the documents' re-approval after the revision. This feature is available not only for Purchase Orders but also for Invoices.
Precoro will not trigger the re-approval in the following cases:
If there were not any changes at all;
Changes of Items Custom Fields if the Budget or Budget Line remains the same;
Changes of Items Custom Fields if the document's budget does not include any Items Custom Fields.
*We will launch this feature for all other document types in our next release.
The Active/Inactive column was removed from Suppliers and Items imports
We removed the Active* [0=Inactive 1=Active ] column from imports. This column was required for Suppliers and Item imports.


After this release, the Suppliers and Items will be imported as active by default.
Suppliers in NetSuite-integrated companies will be updated periodically
Precoro enabled the auto-update of the integrated with NetSuite Suppliers for all companies.

How it works:
Once a week - on Monday - all integrated with NetSuite suppliers will be updated. The update includes the following information:
Suppliers names;
Active / Inactive statuses of Suppliers;
All other integrated data;
If the Supplier was removed from NetSuite — Precoro would deactivate it.
The description field was added to items in all documents
The description field will be displayed in the following documents:
PR
PO
Receipt
Invoice
RFP
WR
Stock Transfer
This field can be edited. Even if the item was added from the Item Management;


We have also added the description to the Purchase Order and Purchase Requisition PDF/XLSX documents: