TABLE OF CONTENTS

The Revision History function is available in both:
Why Use It?


See the history of document alterations.
Impermanent changes — you may want to revert to the previous conditions.
Track changes in user access and location availability.
Revision History in User Profile


To track changes in the User Profile:
1. Open the
Configuration
→
User Management
→
Revision History Action
(in the needed user's profile).
2. Select the two Revisions and press the
Compare Revisions
button below.
3. Click on the Show Changes Only button if you want to see the alterations made.


You can Switch between the Revision tabs above to check out the available:
Locations
Documents Custom Fields
Roles.
Tracking User Activation/Deactivation and Substitute Appointment


When you deactivate the user all documents in Draft Status will be deleted. You can also appoint a Substitute and track this change in Revision History.
To learn more about setting the Substitute when deactivating a user follow a link to this article.
In the Main Info section, you can see the Active field. It indicates whether a user is activated for the company or not. Also, when a user has been deactivated in the Revision History, you see who was chosen as a Substitute User and their email address: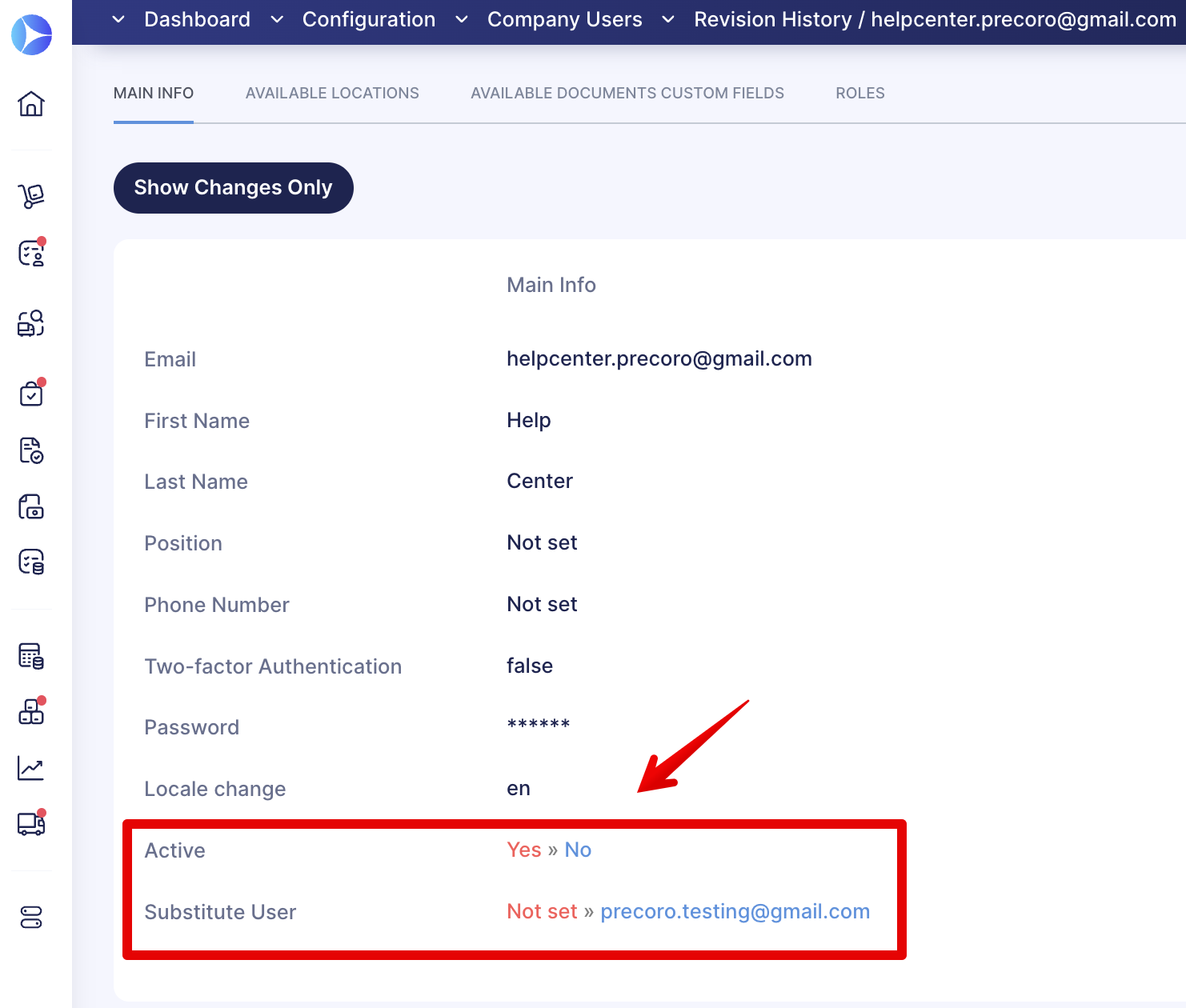 When pressing the Show Changes Only button, you can see the Active in Company field with the toggles that show changes. The green toggle indicates an active status, whereas the grey toggle indicates a deactivated status.

Revision History in Documents


You can track the changes made in Precoro documents:
1. Open the document in which you want to see the Revisions.
2. Press the Revision History button.
3. Select the two Revisions you want to compare by marking them.
4. Press the Compare Revisions button below.