Tolerance Limits is a setting that helps you set the conditions under which a re-approval will not be triggered after a document revision.
Tolerance Limits are set for all document types and can have several conditions.
With this feature, you can limit or remove the approvals when a revision has been made.
To set up Tolerance Limits, you need to follow these steps:
1. Open the Configuration page —> Basic Settings —> Approval tab.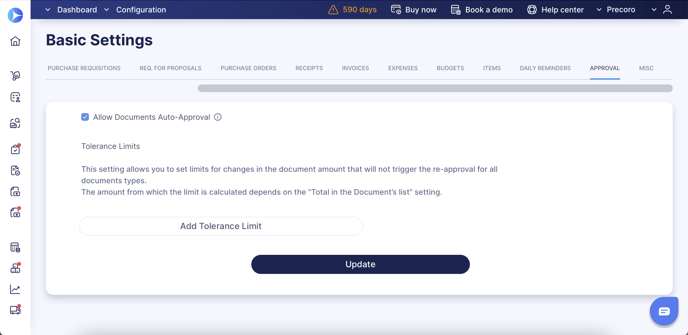 Here, you can find the Tolerance Limits setting — it allows you to set limits for changes in the document amount that will not trigger the re-approval.
2. Add the Tolerance Limit:
Click the Add Tolerance Limit button.
Here, you need to choose a condition. The following conditions are available: Less or equal, From, and From to.
Enter the document amount.
Set up the Tolerance Rate.
These settings will be applied to all document types that are turned on in your company.
How it will work


Let's look at examples:

The main company currency is USD. According to the company processes, the first condition that we need is the following: If the amount of the document is less than or equal to 10 000 USD, then changes in the amount that do not exceed 5% must not be re-approved.
If, after the document changes, the amount was 10 500 USD or less, the re-approval will not be triggered.




What changes Tolerance Limits include

You can make the following changes that affect the amount of the document:
Changes to the price of items
Changes in the quantity of goods
Changes in taxes (adding, editing, deleting)
Changes in Exchange Rates
Adding and removing items.
If the amount of the document remains within limits with these changes, the re-approval will not be triggered after the revision confirmation.