Suppliers Portal is the Precoro connection platform for Suppliers.
Suppliers Portal is a free tool for suppliers which helps to organize Purchase Orders, Requests for Proposals, and send Invoices to clients via Precoro.
To find out how to connect your Suppliers to the Suppliers Portal, please refer to this article.

Precoro Suppliers Portal includes the following activity options:
Receiving POs from customers
Sending Invoices for received Orders
Direct communication with customers
Document attachments
Participation in the RFP processes.

TABLE OF CONTENTS
The Supplier Portal profile and dashboards are similar to Precoro clients accounts. In addition, the left side menu contains access icons to Purchase Orders, Invoices, Request for Proposals, and Supplier Settings.
The Suppliers Portal looks like this: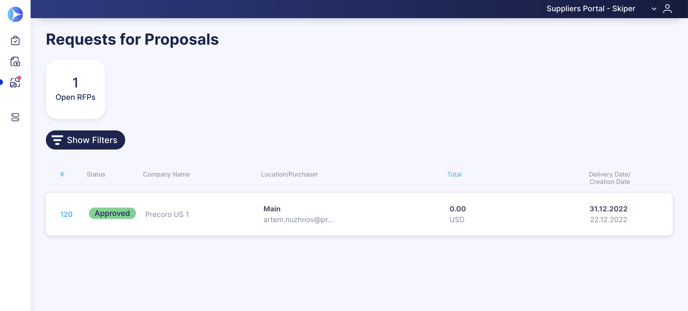 Purchase Orders in the Suppliers Portal

A Purchase Order will appear within the Suppliers Portal once a Buyer submits it.
Purchase Order Actions that are available for a supplier:
Download a PDF/ XLSX version
Download the attached documents
Send a comment to the Buyer
Create an Invoice.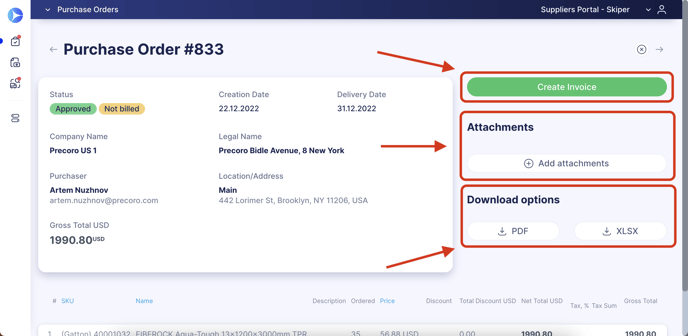 Invoices in the Suppliers Portal

All Invoices created by the Supplier can be stored here.
All Invoices go through the PO matching process. Invoices will be sent for approval to the PO initiator in two cases:
If the Invoice differs from the PO by items, e.g., the Supplier wants to sell some items that the client did not order.
If the total amount of the Invoice is greater than the PO sum and higher than the Tolerance rate specified for the Supplier.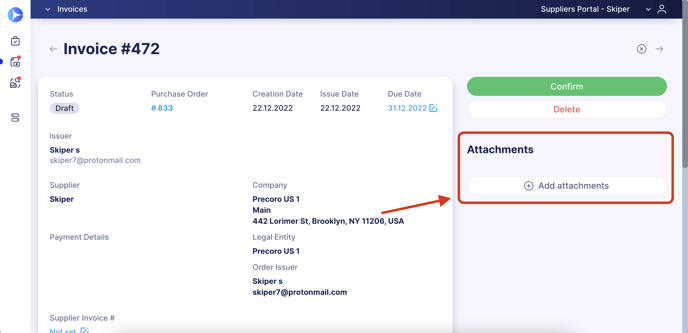 You can communicate with the client directly using the Comment section.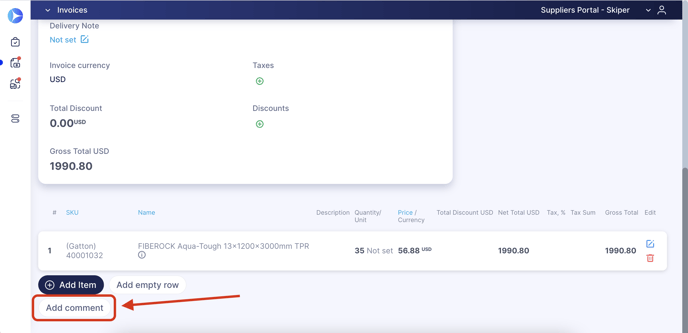 In addition, the Supplier can receive feedback regarding the Invoices from the statuses and emails:
If an Invoice requires approval from the client, then the status will display "Matching" or "Pending" in orange.
If the client does not accept the Invoice, then the status will show "Rejected" or "Canceled" in vinous.
If the Invoice requires action from the Supplier, then the status will show "Draft" in light green.
If the Invoice is accepted and will be paid, then the status will show "Approved" in green.
If the client proceeds with payment, the status will change to "Partly paid" or "Paid" displayed in blue.
If the client makes any changes, the Supplier will receive an email notification.

Request for Proposals in the Suppliers Portal

Suppliers can receive, reject, and submit the Clients' Requests for Proposals and exchange documents/attachments.
Note: If the Supplier rejects all items in the Proposal, the document's status will be changed to Rejected.
Disable/Enable the Suppliers Portal (for Clients)

You can also disable the Suppliers Portal if needed. This will delete all the documents that have Draft status.
If you need to Activate the Portal for the Supplier again, click on the corresponding switch button: