Supplier Registration is the process of collecting crucial information from outside items and service suppliers and entering that information into the system to manage your relationship.
In Precoro, we have built a clear and efficient Supplier Registration on-boarding process that will provide you with advantages in terms of data accuracy as well as minimum manual and routine work thanks to its automation.
TABLE OF CONTENTS
Why Use the Supplier Registration Process
Get automated web form type of information that will exclude any manual data input.
Receive accurate and up-to-date information from your Suppliers.
Conduct the selection process through background checks and data analytics based on the received information.
Go through a simple validation process with the following options: Send for Revision, Approve, or Reject.


Supplier Registration Process Functionality
1. Personalize and send a Registration Form to the Supplier via Precoro.

2. Receive all the necessary data from the Supplier according to your request.
3. Consider the received information and decide whether you would like to accept or decline the Supplier's proposal.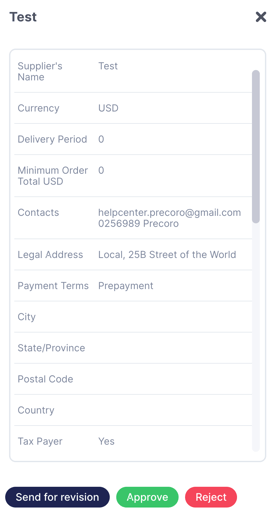 Learn how to Set Up and Utilize the Supplier Registration in Precoro step by step in this article.