To completely restrict a user from accessing the Precoro system, simply deactivate their account.

Please note that because it is important to retain access to historical data associated with the inactive user's account, it is impossible to completely delete the inactive user's past activity.
TABLE OF CONTENTS
How to Deactivate a User

To deactivate a user, follow the steps below:
Go to the Company Users page: Configuration → User Management.
Find the needed user (you can use filters for searching):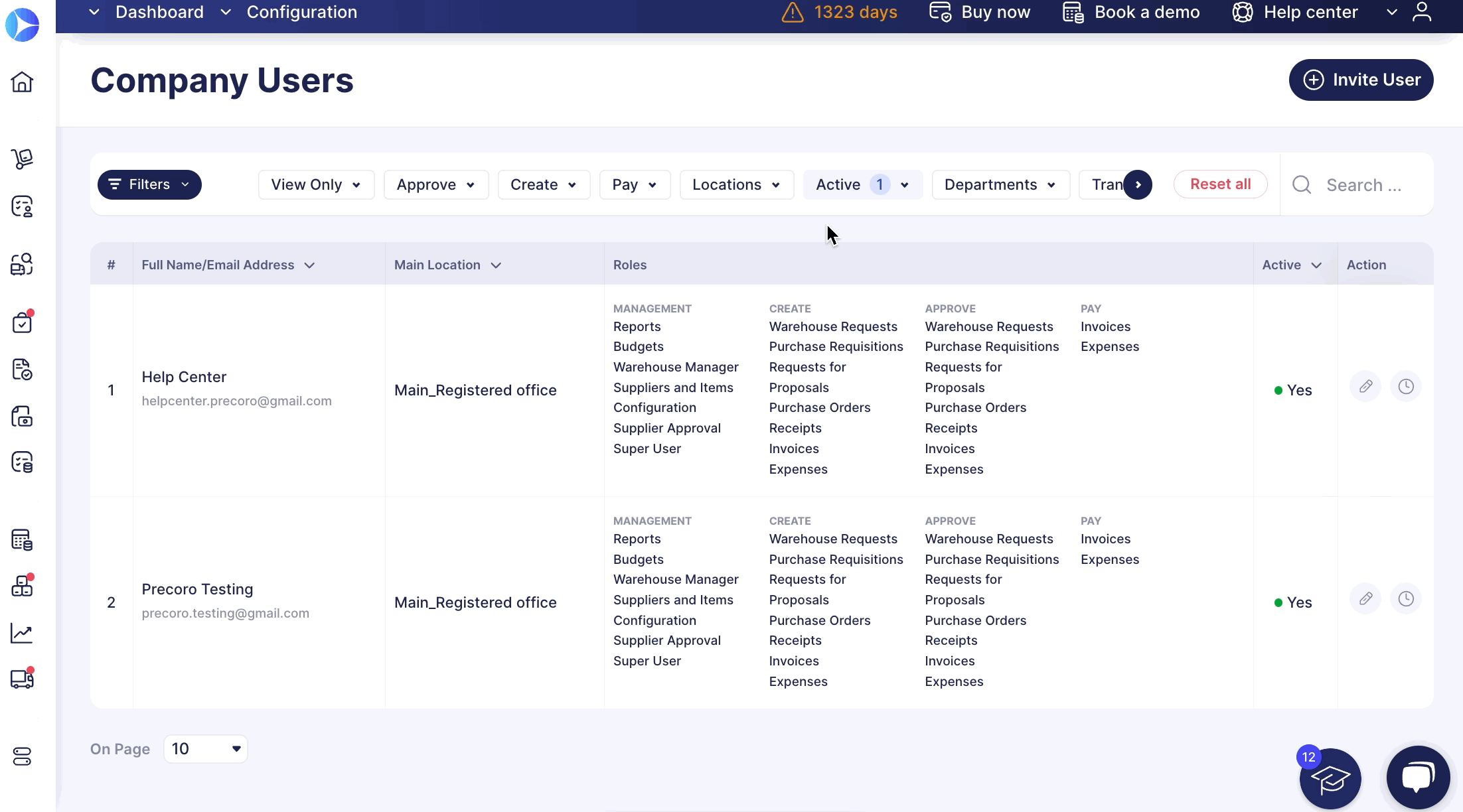 3. After finding the respective user, click on the Edit button.


4. On the Edit User page, go to the Available Companies section on the right and press the Edit icon. Click on the toggle next to the company in which you want to deactivate the user.
The system will prompt you to choose a Substitute for the deactivated user.
Please note that a Substitute is to become responsible for the inactive user's documents. Therefore, the Substitute will perform revision and matching actions instead of the inactive ones when needed.
All documents created by the deactivated user on Draft status will be deleted.
Find more information on setting up the Substitute when deactivating a user
here
.

5. After selecting a Substitute click the red Deactivate User button and then click the Update button in the top right corner to save the changes.

How to Deactivate a User Who Is Part of an Approval Workflow

You can deactivate users even if they are part of your company's Approval Workflow.
When deactivating users, who are part of the Approval, they will be first deleted from the Workflow and then get deactivated in the whole company. Thus, you would not have to remove the user from the Approval Workflow manually. This process will be completed automatically.
If users who are part of the Approval have documents in the Pending status, then:

If the Pending document is on its last Approval Step and the person responsible for the Step is the user whom you wish to deactivate. Also, that person is the only one with the right to Approve the Location. Then the document will be forwarded for re-approval.
If there were other Approvers on the Step with the same accesses, the document re-approval would not get triggered.
Already Approved documents will not be forwarded for re-approval.