TABLE OF CONTENTS
Why Use Budget Breakdown

With this function, you can select different periods within one Budget. It can be helpful when you need to pay for items or services that need to be included in the specific Budget but will only last within some of the Budget periods.
For example, you have a set subscription Budget for a year with a monthly fixed duration period. And you need to pay for a new subscription your company bought starting from June to July and September to November. In the other months, you will not need to pay for the subscription. That is when the Budget Breakdown function will come in handy.
How to Set Up the Budget Breakdown Function


To activate this function, please get in touch with your Customer Success Manager or write to the Precoro Support team, and we will set it up for you!
This function is only available for the
Purchase Order
and
Invoice
documents. To be able to utilize it, users must have the
Purchase Order
and
Invoice
Creator
Roles
in the
User Management
tab.
If in the
company settings
, you have deactivated the
Show budget amounts to the Purchase Order/Invoice Issuers
option, the creators will not be able to view the Budget Total sum. However, they will still be able to perform the Breakdown.

How to Use Budget Breakdown in Documents


Information on how to set up and use Budgets in Precoro can be found here.

1. Create a Purchase Order or Invoice document and open it in Edit mode on the creation page.


Please note that the Budget Breakdown button will display in Purchase Order and Invoice documents only on Draft, Approved, and In Revision statuses.
With this, please also note that on Approved status, you cannot Edit the current Budget.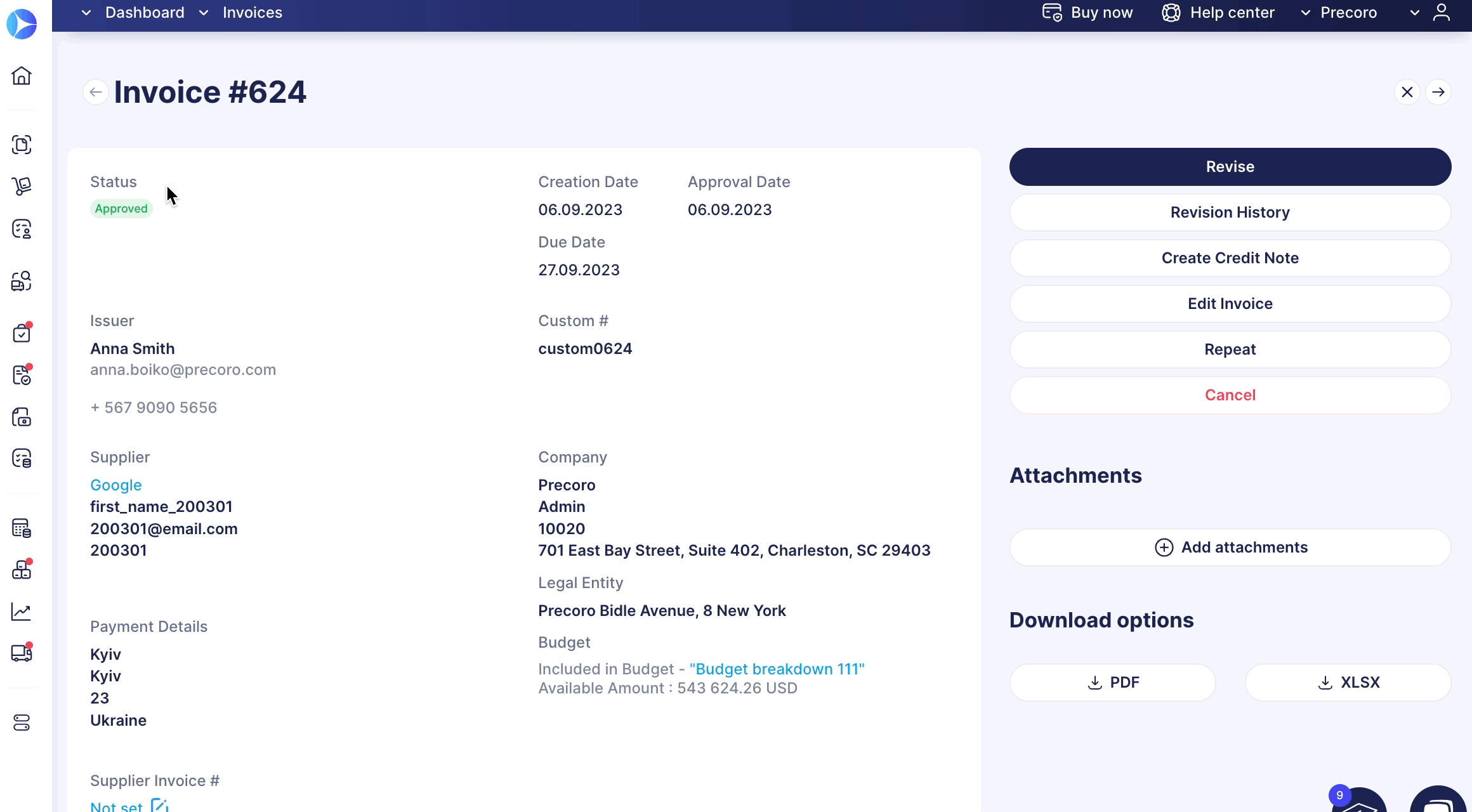 2. Activate the Budgets switch.

3. Select the necessary periods.


When you activate the Budget Breakdown function in the documents, the Recurring function will be automatically disabled.