Learn how to use a unified Billing and Add-Ons management page that will open up many new possibilities for you.
TABLE OF CONTENTS
Why Use the Billing and Add-Ons Management Page

Use the unified Billing and Add-Ons management page that will provide you with the following opportunities:
Monitor the validity of all subscriptions and pay for all the selected services from the same page.
If you are still in Trial mode, you can book a consultation call, where our representative will help you get answers to all your questions and provide you with a demo. As well as activate the Premium Implementation service and buy the Precoro subscription.
See a consolidated overview of the paid services status is conveniently provided in one place.
Individually manage all the Add-Ons. You can connect new ones as well as disconnect or prolong the existing Add-Ons.
How to Use And Manage

The page consists of three sections where you can manage:

1. Company Balance — displays the current balance information.
Current balance amount
How much has already been used this month
The number of actual users multiplied by the current tariff
Number of days being activated
The Total payment amount that is being calculated by the actual number of users
Date for the next payment.
You can see the calculated Payment Amount and proceed to Pay from the same page.
2. My Add-Ons — this section displays the current connected services.
In this section, you can find the current services that you are using or the ones that were in use and now need action from you:
You can see the annual Total price for each connected service.
See the calculated amount and proceed to Pay for the selected services.
Change plan for OCR, Add Suppliers in the Supplier Portal, Cancel subscriptions for the active services, and Renew them if needed.
Proceed to the Knowledge Base and learn more about the functions and opportunities available for the add-on you are using.

3. Precoro Add-Ons — here are the available services you can add and use.
In this section, you can find the services you can activate with the pricing information and the opportunity to learn more about the feature, its benefits, and the setup process in the Knowledge Base.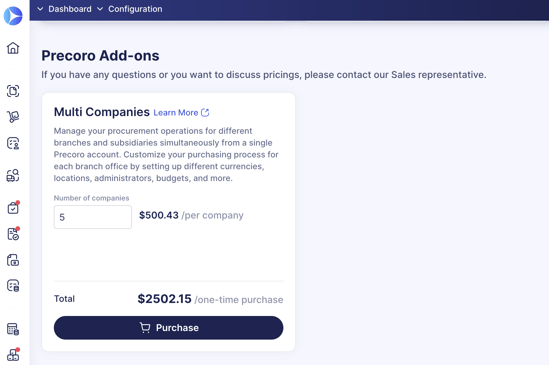 What Add-Ons Are Available

Currently, there are five Add-Ons available for activation and a Premium Implementation service that is only available for the companies that are still in Trial mode:
Multi Companies — manage your procurement operations for different branches and subsidiaries simultaneously from a single Precoro account. Customize your purchasing process for each branch office by setting up different currencies, locations, administrators, budgets, and more.

OCR — take advantage of Optical Character Recognition (OCR) to automatically extract information from Invoices, such as numbers, sums, descriptions, and dates, and match them with Purchase Orders for improved spending analytics and reduced workload for the finance team.

NetSuite Integration — sync subsidiaries, locations, items, taxes, POs, bills, vendor data, and more with the direct two-way connection between NetSuite and Precoro.
Using this integration, you can make your accounting and procurement teams work in synergy, transform your company's overall purchasing experience, and gain more control over spending.

Power BI — implement our Custom Connector to tap into the Precoro data source via API.

Transfer the information you need to the Power BI account, enhance the visualization, analyze important company indicators in real-time, and set up the scheduled automatic data update.

Supplier Portal — collaborate more conveniently and efficiently with your Suppliers.

Suppliers Portal functionality will significantly simplify and expedite working with Requests for Proposals, creating Purchase Orders, and sending standardized Invoices for the items you need.
Precoro Services For the Trial Mode Companies

If you are using Precoro in a Trial mode, you can also activate the Premium Implementation service, and our Customer Success Specialist will provide your organization with additional consulting and service hours, multiple training sessions, delegated end-to-end account setup, and a 30-day grace (testing) period.
You can always Book Consultation Call and get a demo, discuss pricings, and get answers to your questions by contacting our Sales representative. Click on the respective button and fill out the form to book a demo.