A Purchase Requisition is a document generated by a department employee to request the purchase of goods or services. It may also contain the authorization to proceed with the purchase order.

TABLE OF CONTENTS

As a general rule, purchase requisitions are approved by heads of departments. As soon as the purchase requisition is approved, it is transferred to the department that deals with suppliers for the further purchase process.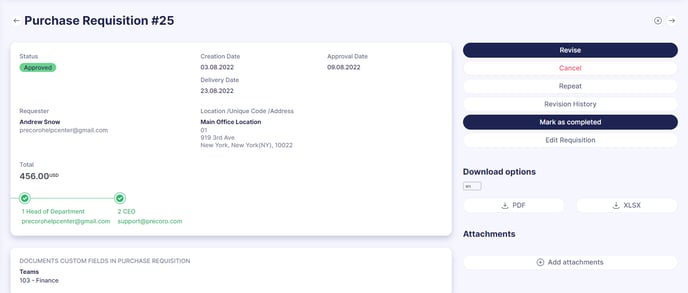 What Problems Can Be Solved with Purchase Requisitions


By Using Purchase Requisitions in Precoro, one can solve the following problems:
Simplify the procurement process of providing employees with the necessary goods and give them a simple tool in which they can request what they need for work (instead of emails, Google tables, chats, and paper notes).

Reduce the number of man-made errors in decrypting requisitions that are not written in a standardized form at the procurement stage.

Reduce the time needed to create Purchase Orders by generating POs automatically.
How Our Clients Use Purchase Requisitions

The requisition initiator is a department employee.

Each employee creates a purchase requisition once there is a need for something.

The office manager is responsible for ordering goods and tracking their successful delivery.